Venus 2019 - Triff deine Lieblingsstars!
Es war eine spontane Idee: Die Venus in Berlin.
Ich hatte sie einem Arbeitskollegen aus einer Laune heraus vorgeschlagen. Wir waren uns schnell einig, dass wir das machen sollten. Beide hatten wir großes Interesse an der Veranstaltung und es standen keine anderen Termine im Weg. Zug und Hotel waren schnell gebucht und so begann das Warten auf den Oktober.
Wir hatten keine Ahnung, was uns in Berlin erwarten würde. Die Stars und Sternchen der Erotik-Branche zu treffen stand für uns jedoch ganz oben auf der Wunschliste. Es wäre unfair nur einige Namen zu nennen, denn alle Mädchen waren sympathisch und offenherzig. Wir kannten Viele bisher nur noch nicht. Einzig Lia Leone und Lucy Cat wollte ich unbedingt treffen.
Die Fahrt nach Berlin mit dem Zug war, wie man es von der Bahn erwarten kann. Wir hatten auf den ersten Kilometern keinen Sitzplatz. Bei einem ausgebuchten Zug einen Wagen mehr anzuhängen ist in Deutschland scheinbar nicht vorgesehen. Zum Ausgleich war das Hotel und die Hotelbar gut und die angrenzende Gastronomie sorgte für das leibliche Wohl.
Am nächsten Morgen machten wir uns mit der U-Bahn auf zur Messe. Zusätzliches Geld in Fast-Lane-Tickets zu investieren, erwies sich als eine gute Idee. Ohne Wartezeit ging es für uns direkt hinein zur Venus. Die Fast-Lane hat ausgesprochen gut funktioniert.
Kaum hatten wir die Halle betreten, wurde uns von freundlichen Helfern eine Tasche mit Geschenken übergeben. Diese nahmen wir gerne an. Sie sollten nicht so leer bleiben, wie wir sie bekommen hatten – obwohl bereits ein paar kleine Präsente darin bereit lagen. Viele Stände lockten mit Angeboten und die Verkäuferinnen hatten keine Scheu die Produkte - im Rahmen der Möglichkeiten - zu demonstrieren. Unser erstes Gespräch auf der Venus hatten wir mit einer jungen Frau, die uns genau erklärte, welchen Typ von Vibrator sie bevorzugt. An diese Art der Unterhaltungen musste man sich erst gewöhnen, aber genau deswegen waren wir ja hier.
An beiden Tagen verbrachten wir die meiste Zeit mit den Darstellerinnen und CamGirls. Die Gelegenheit diese vielen hübschen und sympathischen Frauen zu treffen, konnten wir uns nicht entgehen lassen. Trotz des hektischen Treibens auf der Messe waren alle Frauen gut gelaunt und für teils fragwürdige Aktionen zu begeistern. Sie schrieben fleißig Autogramme, und posierten mit uns für Fotos. Einige der CamGirls beeindruckten nicht nur durch ihre atemberaubenden Körper, sondern auch durch ihren Geschäftssinn. Oft wurden wir gefragt, ob wir nicht eine DVD oder einen Kalender kaufen wollten oder ob wir beim nächsten Live-Stream dabei wären. Solchen verlockenden Angeboten kann ein Mann nur schwer widerstehen.
Besonders gut in Erinnerung geblieben ist uns die sympathische Ibi Smiles, die wir bisher nicht kannten und die wir auf der Venus zufällig trafen. Obwohl Ibi unter dem Namen BikiniFanatics eine eigene Firma gegründet hat, war sie dieses Jahr noch nicht mit einem eigenen Stand vertreten. Sie hofft im nächsten Jahr soweit zu sein. Wir wünschen uns ebenfalls Ibi wiederzusehen. Ohne Zweifel wären sie und ihre Mädchen eine tolle Ergänzung für die Venus und wir würden sie fraglos gerne wieder dort treffen. Standesgemäß war Ibi in einem selbst entworfenen Bikini unterwegs, der ihre Kurven zur Geltung brachte. So schnell bekommt man neue Fans.
Von dem Programm auf den Bühnen haben wir leider nicht viel gesehen: Meistens kamen wir zu spät und konnten die Aktionen nur noch aus der Ferne beobachten. Hier wäre etwas mehr Planung von unserer Seite sicher sinnvoll gewesen. Ein ganz besonderes Erlebnis war die Hardcore Dildo Show, besonders für die Besucher, die in der ersten Reihe saßen. Die Dinge, die dort hinter geschlossenen Türen geschehen sind, sollten besser ein Geheimnis bleiben.
Was auf der Venus passiert, bleibt besser auf der Venus!
… Aber so viel sei gesagt: Es war ein großer Spaß!
Am späten Sonntagnachmittag wurde es spürbar leerer in den Messehallen. Wir verbrachten die letzten Stunden an Ständen, die wenig mit unserem ursprünglichen Plan zu tun hatten, die man aber auf vielen Messen findet. Ein paar Weine und Liköre zu probieren ist nie verkehrt. Schließlich gibt es neben hübschen Frauen auch noch andere Dinge, die im Leben Spaß machen.
Mehrere Tage Messe sind für Besucher - und sicherlich noch mehr für die Aussteller - eine anstrengende Angelegenheit. Wir hatten nach Ende der Veranstaltung zusätzlich noch einige Stunden im Zug vor uns. Dennoch war der erste Besuch auf der Venus eine großartige Erfahrung, an die wir uns mit einem dicken Stapel Autogrammkarten und mehreren hundert Fotos erinnern können.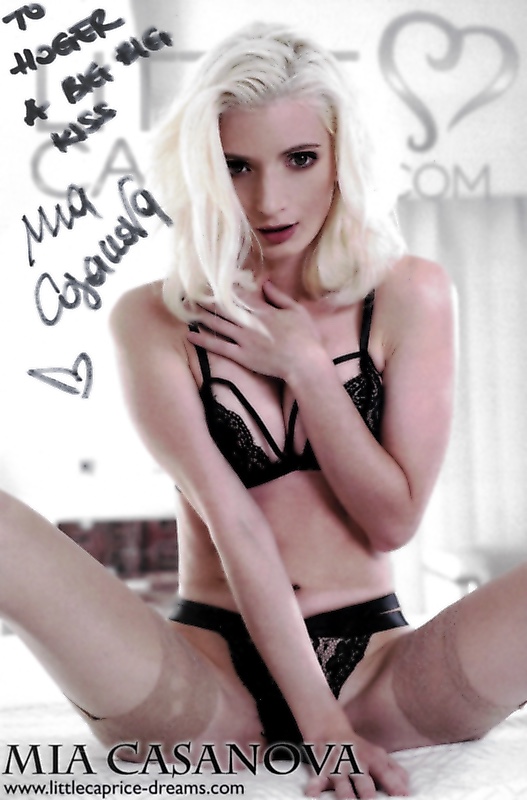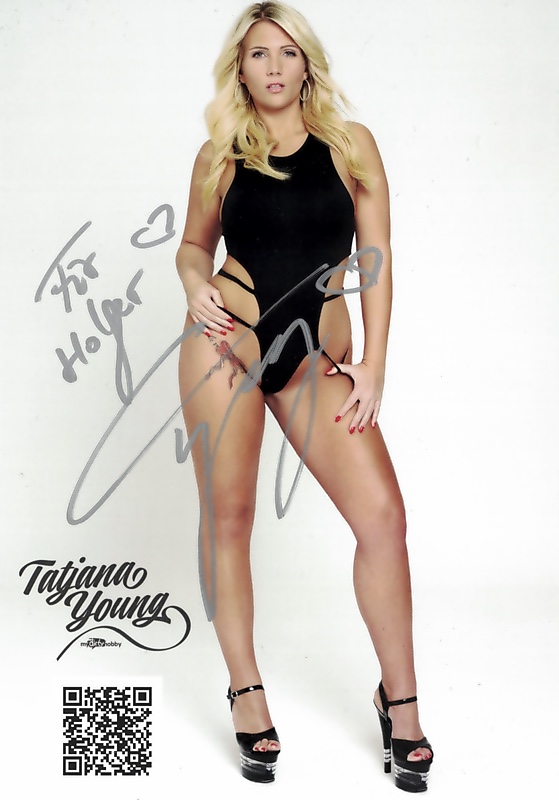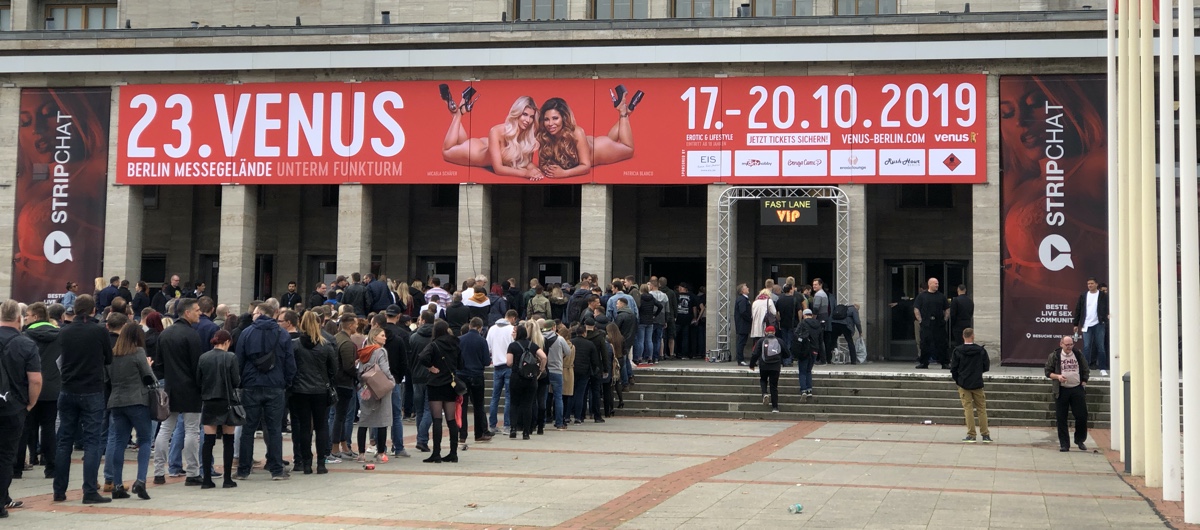 Venus 2019 - Meet your favorite stars!
It was a spontaneous idea: Venus in Berlin.
I had suggested it to a colleague at work on a whim. We quickly agreed that we should do it. Both of us were very interested in the event and there were no other dates in the way. Train and hotel were quickly booked and so we started waiting for October.
We had no idea what to expect in Berlin. To meet the stars and starlets of the erotic industry was at the top of our wish list. It would be unfair to mention only a few names, because all girls were sympathetic and open-hearted. We just didn't know many of them yet. Only Lia Leone and Lucy Cat I wanted to meet.
The trip to Berlin by train was as you can expect from the German Bahn. We did not have a seat on the first kilometers. In Germany it is apparently not planned to hang one more cars on a fully booked train. But the hotel and the hotel bar were good and tand the neighbouring gastronomy provided for the physical well-being.
The next morning we took the subway to the fair. Investing additional money in fast lane tickets proved to be a good idea. We went straight to Venus without waiting. The Fast-Lane worked extremely well.
As soon as we had entered the hall, friendly helpers handed us a bag with presents. We gladly accepted them. We didn't want them to be as empty as we had received them - although there were already a few small presents in them. Many stands lured with offers and the saleswomen were not afraid to demonstrate the products - within the scope of the possibilities. We had our first conversation at Venus with a young woman who told us exactly which type of vibrator she preferred. You had to get used to this kind of conversation, but that's exactly why we were here.
On both days we spent most of the time with the actresses and CamGirls. We couldn't miss the opportunity to meet these pretty and sympathetic women. Despite the hectic hustle and bustle at the fair, all the women were in a good mood and enthusiastic about our partly questionable actions. They were busy signing autographs and posing with us for photos. Some of the CamGirls impressed not only by their breathtaking bodies, but also by their business sense. Often we were asked if we didn't want to buy a DVD or a calendar or if we would be there for the next live stream. Such tempting offers are hard to resist for a man.
We especially remembered the sympathetic Ibi Smiles, which we didn't know before and which we met by coincidence on Venus. Although Ibi founded her own company under the name BikiniFanatics, she was not represented with her own booth this year. She hopes to be ready next year. We also wish to see Ibi again. Without a doubt, she and her girls would be a great addition to Venus and we would undoubtedly like to meet her there again. Ibi was in a self-designed bikini that emphasized her curves. That's how quickly you get new fans.
Unfortunately, we didn't see much of the program on stage: Most of the time we came too late and could only watch the actions from a distance. Here a little more planning from our side would have made sense. A very special experience was the Hardcore Dildo Show, especially for the visitors who sat in the first row. The things that happened behind closed doors were better kept a secret.
What happens on Venus better stay on Venus!
... But let me say this much: It was great fun!
In the late Sunday afternoon it became noticeably emptier in the exhibition halls. We spent the last few hours at stands that had little to do with our original plan, but which can be found at many trade fairs. Tasting a few wines and liqueurs is never wrong. After all, besides pretty women there are other things that are fun in life.
Several days at the fair are a strenuous affair for visitors - and certainly even more for exhibitors. After the end of the event, we also had a few hours in front of us on the train. Nevertheless, the first visit to Venus was a great experience that we can remember with a thick stack of autograph cards and several hundred photos.